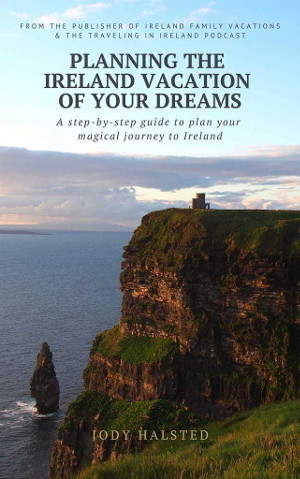 Even if you're beyond the age when you're "supposed" to believe in faeries, the moment you step foot in Ireland a feeling of possibility washes over you. You just don't know what could be at the top of those castle towers or at the end of the rainbow.


Jody Halsted, publisher of Ireland Family Vacations and host of the Traveling in Ireland Podcast, has been traveling through Ireland solo and with her family for 20 years. In that time she has learned how to avoid the heaviest crowds at the most popular tourist spots, uncovered amazing tours and attractions 'off the beaten path', and discovered dozens of money saving tips to help you experience more of Ireland and keep your Euros & Pounds for special splurges and memorable souvenirs.


Jody begins at the beginning- when is the best time to visit Ireland?– and works through every phase of your trip: flights, transportation, lodging, attractions, dining, and even how to plan your vacation budget to make the most of every cent. A handy 'Countdown to Ireland' checklist assures you won't forget anything as you prepare for your amazing vacation.


Beautiful images of Ireland help you imagine your trip and a continually updated online resource page with in-depth tips for specific areas of Ireland, free Ireland itineraries, and special discounts helps you complete your own fantastic journey! This book follows through on Jody's mission to provide 'Exceptional advice for your Ireland vacation'.


Designed to guide you through every step of planning your Ireland vacation!


This award winning book answers the questions:
When is the best time to visit Ireland?
How much money do I need for an Ireland vacation?
What clothes will I need?
Where should I stay?
What should I see?
… and plenty of questions you haven't thought of.


You'll learn
How to find and track airfare deals
How to avoid a costly surprise when you pick up your rental car
How to overcome jet lag quickly
Easy ways to save money on attractions
How to stay connected affordably
… and other handy tips to make your Ireland vacation a magical experience.


The first edition of this book was the 2017 Bronze Award Winner in the Travel Book or Guide category of the NATJA (North American Travel Journalists Association) Awards Competition.