A Closer Look at the Glens of Antrim
Ireland is a land steeped in history, tradition and culture. Add to that the natural beauty that surrounds us and we have to admit, we're incredibly lucky to work towards conserving and celebrating such a wonderful landscape.
Every day we get messages from excited Squires, squiress and squireens excited to come and visit their land and every year we see more and more coming to their very own piece of the auld sod.
However, not everyone can make the trip so we thought we'd give a little more detail on your land and the surrounding, breathtaking Glens of Antrim here on the north coast of Ireland. 
The Nine Glens of Antrim dominate the 80 miles of cliff that span the north coast of the Emerald Isle. This breathtaking collection of deep glens was carved out during the Ice Age when melting and receding glaciers cut deep into the land and slowly created what we know and love today.
The nine famous Glens, and the meaning behind their names, are as follows:
Glenarm – Glen of the Army
Glencloy – Glen of the Dykes
Glenariff – Glen of the Plough
Glenballyeamon – Edwardstown Glen
Glanaan – Glen of the Little Fords
Glencorp – Glen of the Dead
Glendun – Brown Glen
Glenshesk – Glen of the Sedges (Reeds)
Glentaisie – Princess Taisie of Rathlin Island
Each Glen boasts its own unique charm, quirks and characteristics in both the surrounding landscape and its people.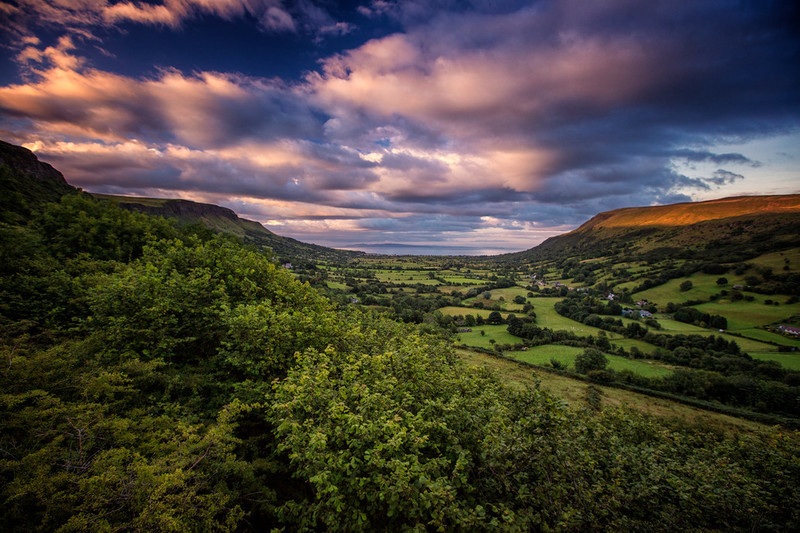 In 2014 Emerald Heritage began life with a small patch of land in Glendun, part of the Glens of Antrim listed above, and since then we've helped Irish from around the world reconnect with their ancestral home whilst also conserving the landscape one plot and one native tree at a time!
If you haven't been able to visit your land just yet (don't worry, there's always time!) then imagine a quiet patch of land bordered on one side by an old iron-gate and hand-built stonewall and on the other by lush woods with rolling hills in the far-off background. When you close your eyes you hear the sounds of birds and nearby farm animals and your face will be cooled by a light Irish mist or warmed by the welcome summer sun.
When you open your eyes and pass the iron-gate you'll find a rolling stretch of land that comes to an abrupt stop down in the far corner where the ruins of a 300-year-old Irish cottage and farm lie as a dormant reminder of a bygone age. Before that you'll see native Irish trees, selected to complement and help the surrounding landscape, planted on behalf of Irish from around the world and hear the rustle of leaves as the wind sweeps through our little patch of heaven.
The surrounding Glens are just as majestic and breathtaking. If you continue along the Causeway Coastal Route road, which directly passes Emerald Heritage land when you take the in-land route, you'll eventually come across Loughareema, also known as the Vanishing Lake…
The Glens are also home to beautiful coastal villages including the lively Cushendall, where the annual summer festival includes a footrace up the nearby Lurig mountain, picturesque Cushendun, Carnlough, Waterfoot and Glenarm where the local Glenarm Castle has remained occupied for hundreds of years.
To top it all off, in Glenariff Forest Park, we have the Glenariff Waterfalls, otherwise known to locals as the "jewel of the Glens".
This designated area of outstanding natural beauty knows no bounds and remains just as beautiful throughout the year no matter what season it is.
Whether you've been a squire for years, or are just now considering buying a plot, or come from Ireland, Italy, America, Canada or wherever else in the world, we want this patch of land to be considered a home from home.
There's nothing more gratifying than hearing the story of another Emerald Heritage squireen making the journey up to that land in Glendun. It connects us all and rejuvenates us to keep going, work harder and do more.
Hopefully this gives you another taste of the land we all strive to protect, celebrate and keep green for generations to come.
--
Thanks for reading our blog! As a thank you, you can get 10% off any Irish plot of land by using the code: BLOG10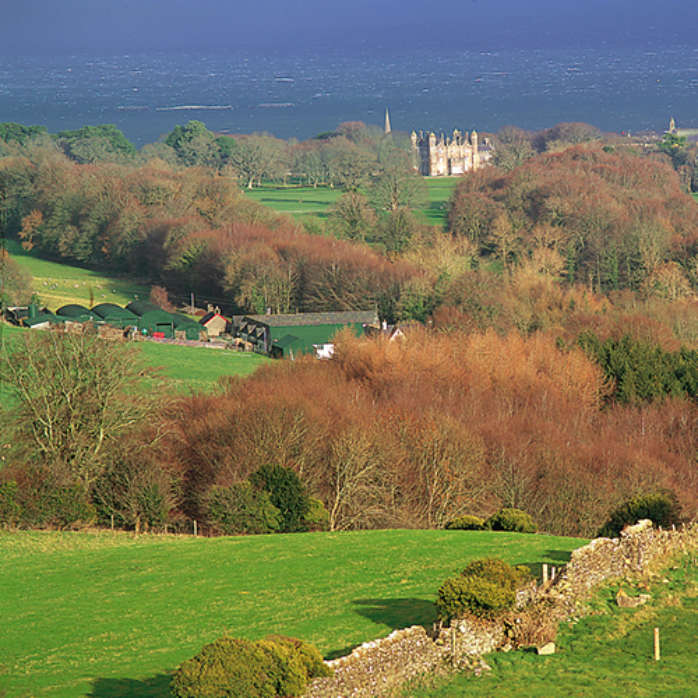 The perfect gift for those with Irish Roots
Your own little piece of Ireland
Use code BLOG10 today to get a 10% Discount
FAST WORLDWIDE SHIPPING
---
Share this post with friends!
---