Driving the Ring of Kerry
The incredible Ring of Kerry has long been famed as one of Ireland's most breathtakingly beautiful spots. Over the course of 170+km, skirting around the western Iveragh Peninsula, you'll experience some of the best landscapes, views and craic anywhere on the Emerald Isle. 
We might prefer the local charm and feel of our own Causeway Coastal Route (we're biased!) but we would be doing a disservice to our Emerald Heritage landowners and readers if we didn't give you a little taste of what the west of Ireland has to offer. 
Everything revolves around the Iveragh Peninsula on the Ring of Kerry. If you follow the N70 road, going off on little tangents as and when you feel the need to explore further, you'll experience a road trip defined by the supreme natural beauty of our Irish land. It's a landscape dominated by Ireland's highest peaks, untouched lakes and panoramic ocean views.
In Killarney Town, most likely your base and starting point for exploring, you'll discover that famous Kerry charm, history and heritage. The town celebrated it's 250th anniversary in 2005, is just a few short miles from the National Park and boasts its own attractions including the impressive St Mary's Cathedral.
Killarney National Park will be a standout for anyone touring the Ring of Kerry for obvious reasons. This incredible park of approximately 26000 acres combines rugged, mountainous landscapes with deep, hushed woods and tumbling waterfalls. The park also contains Muckross Abbey and Ross Castle which is a 15th century castle built by O'Donoghue Mór who some say still lies at the bottom of the surrounding Lough Leane…
MacGillycuddy's Reeks (and Carrauntoohil)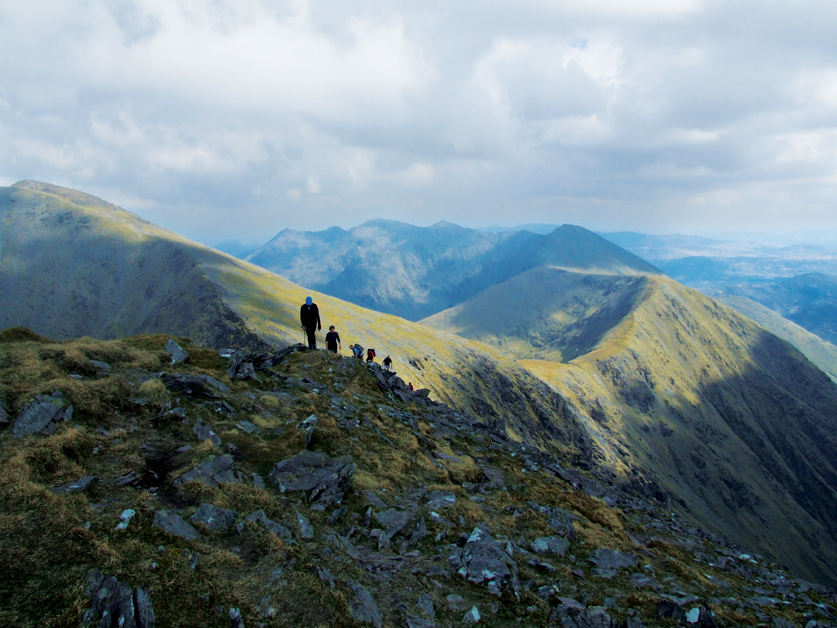 Nearby the National Park is MacGillycuddy's Reeks, Ireland's highest and largest mountain range which contains 9 of the country's 12 summits and also contains Carrauntoohil, Ireland's highest peak. This incredible range is breathtaking in its sheer scale with the highest peak rising to over 1000m tall. The MacGillycuddy name is derived from a clan of local landowners from centuries ago and "reeks" essentially means stacks.
Separating both Killarney National Park and MacGillycuddy's Reeks is the wonderfully serene Gap of Dunloe, named after the river that flows through it. This narrow mountain pass was carved out of the land by glaciers centuries ago for us to enjoy today.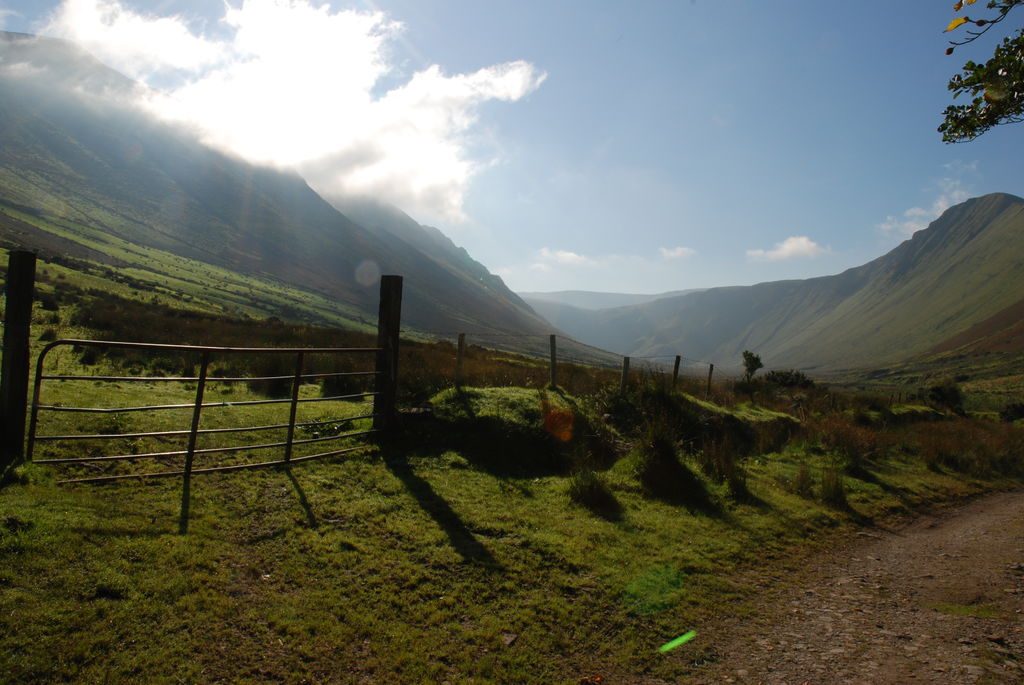 For something a little different you need to venture further west (although we'll be going even further than that as you'll soon see below…) and visit Valentia Island accessible via both bridge and ferry. The island has yet more rugged beauty to enjoy but is most notable for two strange facts. The first is that in 1866 the island became home to the first transatlantic cables and communications between the United States and Europe! The second is that Glanleam House, found on the island, is a sub-tropical garden that, by a quirk of nature, is Ireland's mildest natural climate. It hosts plant life from afar afield as South America, Australia and New Zealand and was first opened in the 1830s.
As promised, for one of our last stops, you'll need to venture even further west. Approximately 12km of the mainland coast of Ireland to be precise! Here you'll find Skellig Michael and Small Skellig, two small rugged cracks of land you'd think were far to small to ever be inhabited. Think again…
Skellig Michael, a designated UNESCO World Heritage site as of 1996, was once a remarkable early Christian monastic outpost! Nowadays you can take boat tours to the island and, on clear days with good weather, climb the steep steps to see everything that still exists for yourself.
If you want to take a break from the stark natural beauty all around you we recommend a trip to the quaint little town of Kenmare. This self appointed "jewel in the Ring of Kerry, is the perfect resting place after a long day travelling or you can also pop in for quick pint of the black stuff and some delicious local grub before moving on your way again. Either way it represents a nice resting spot amidst all the mountains, monasteries, lakes and castles!
--
Thanks for reading our blog! As a thank you, you can get 10% off any Irish plot of land by using the code: BLOG10
The perfect gift for those with Irish Roots
Your own little piece of Ireland
Use code BLOG10 today to get a 10% Discount
FAST WORLDWIDE SHIPPING
---
Share this post with friends!
---