2021 Squireens Homecoming Event
Due to COVID retrictions, this is cancelled until further notiice
Take a Trip to Ireland
Every year the Emerald Isle sits with arms open on the edge of the Atlantic Ocean waiting to welcome more visitors to her shores.
From the Ring of Kerry to the Rebel County of Cork, from Malin Head to Croke Park in Dublin, there really is a story waiting to be told for everyone.
If you've never been before you might be daunted by the idea of planning a trip to Ireland but we happen to have a handy solution…
Ireland Family Vacations
Our friend Jody at 'Ireland Family Vacations' understands the value of information, especially when travelling!
Jody Halsted, a writer, publisher and founder of Ireland Family Vacations, has been travelling back and forth to Ireland for over ten years from the United States, both by herself and with her family.
What you'll find at Ireland Family Vacations is "a treasure trove of information" with every question you can think of answered in detail! From the best travel gear to handy tips on saving money this site is a must-read before we welcome you over for the craic!
Squiring Through the North of The Island
Emerald Heritage is about many things. We encourage Irish culture and heritage and save land to create new native Irish woodlands. As such, we are building the largest worldwide community of Irish landowners in a quest to save our Island from the developers digger for future generations. Importantly, we also want to connect with other likeminded Irish people out there!
If, like Jody, you think we're stronger together then get in touch!
As you can see, in the pictures Jody kindly gave us permission to use, we really do welcome everyone with open arms.

Our partner Jodie (Ireland Family Vacations) has teamed with Emerald Heritage for another Irish Gathering in 2021!! So why not come along!

The Itinerary From Belfast to Bushmills and on to Derry, this tour leads our group of Squires through the legends, history, and marvels of 'North of the Island'.
Small, intimate group- only 10 to 12 people
7 Nights Accommodations
Daily Breakfast
1 Afternoon Tea
2 Group Dinners
Entrance to Carrick-a-Rede Rope Bridge, Giants Causeway, Dunluce Castle, Bushmills Distillery, Titanic Museum
Included tours & experiences: Derry City walking tour, Irish bread making, Gobbins Cliff Walk, Sheepdog & shearing demonstration
Luxury Touring Vehicle
Private Driver Guide
Complimentary Concierge Service
Private Facebook group for attendees
Personal recommendations and planning advice from Jodie
Daily Highlights
Please note: this tour does not include Dublin as the city is easily toured without a guide. It is recommended that you visit prior to the beginning of the tour if you wish to include the city in your trip.
September 4
Pickup from Dublin hotels & airport
Tour of Belfast City Centre
Tour Belfast Murals & Peace Walls
Check in to Titanic Hotel. Group dinner this evening.
September 5
The Gobbins Cliff Path (option to tour with driver-guide if you do not wish to do this)
Bread baking at Tracey's Farmhouse Kitchen
2nd night at Titanic Belfast. Dinner on your own.
September 6
Visit Titanic Belfast
Glens of Antrim touring – with a visit to your plot of land
Afternoon tea with Lyn Nelson of Emerald Heritage at Kilmore Country House
Arrive at Bushmills Inn
September 7
The Giants Causeway
Carrick a Rede Rope Bridge
The Dark Hedges
2nd night at Bushmills Hotel
September 8
Bushmills Distillery tour
Exploring Dunluce Castle, Downhill Demense, and Mussenden Temple
Walking tour of the walled city of Derry and the Boglands
Check in to Bishops Gate Hotel
September 9
Touring the Inishowen Peninsula & North Coast
2nd night at Bishops Gate Hotel. Group dinner.
September 10
Glenshane Country Farm Sheepdog Experience
Lunch at Crosskeys Inn – the oldest thatched pub in Ireland
Arrive at Carlton Hotel Dublin Airport
September 11
Depart Ireland or continue on a self-guided tour
€2,375 per person
Tour price does not include airfare
View the complete itinerary here
Emerald Heritage is not responsible for handling the bookings or information. This should be done directly through Ireland Family Vacations!
We hope to see you all again very soon!!!!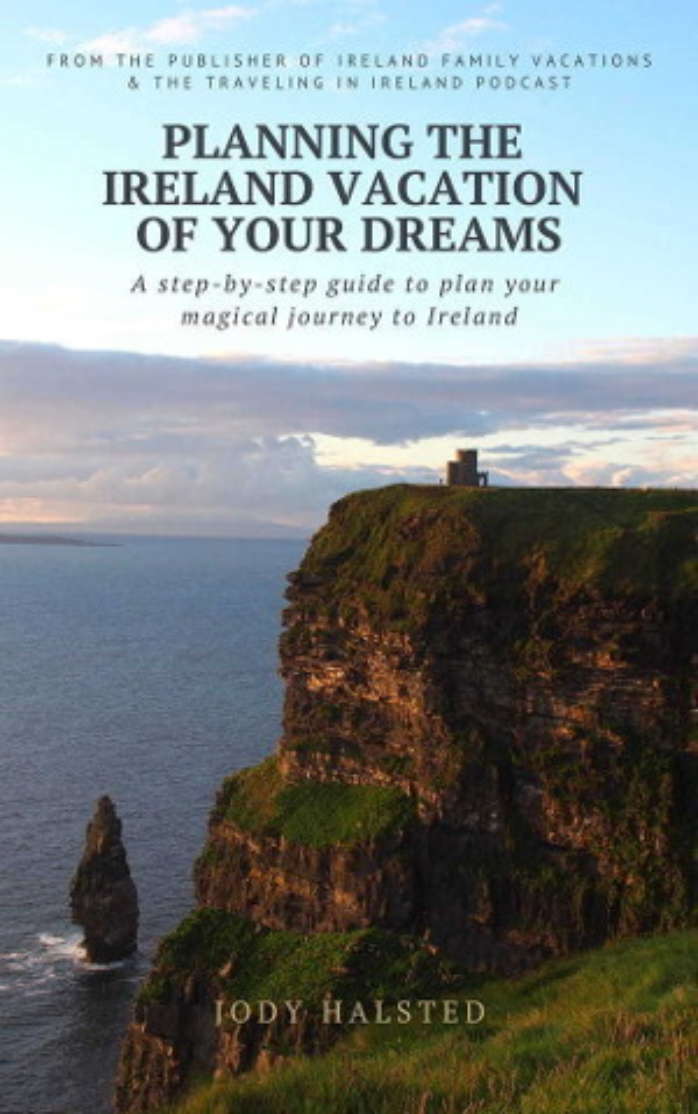 Jody's new book
Planning the Ireland Vacation of Your Dreams
Even if you're beyond the age when you're "supposed" to believe in faeries, the moment you step foot in Ireland a feeling of possibility washes over you. You just don't know what could be at the top of those castle towers or at the end of the rainbow. Jody Halsted, the publisher of Ireland Family Vacations and host of the Traveling in Ireland Podcast, has been traveling through Ireland solo and with her family for 20 years. In that time she has learned how to avoid the heaviest crowds at the most popular tourist spots, uncovered amazing tours and attractions 'off the beaten path', and discovered dozens of money saving tips to help you experience more of Ireland and keep your Euros & Pounds for special splurges and memorable souvenirs. Jody begins at the beginning- when is the best time to visit Ireland?– and works through every phase of your trip: flights, transportation, lodging, attractions, dining, and even how to plan your vacation budget to make the most of every cent. A handy 'Countdown to Ireland' checklist assures you won't forget anything as you prepare for your amazing vacation.

Planning the Ireland Vacation of Your Dreams
The perfect gift for those with Irish Roots
Your own little piece of Ireland
Use code BLOG10 today to get a 10% Discount
FAST WORLDWIDE SHIPPING
---
Share this post with friends!
---