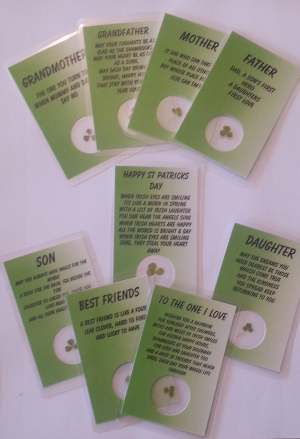 A genuine handpicked real shamrock blessing card, sealed in a laminated plastic, wallet size – 9.5cm x 6cm sleeve.
An Irish blessing on the front of the card.
St Patrick introduced this little plant to Ireland 433AD making this emblem a perfect Irish accessory to add within your pack. With a real shamrock centred within a clear shaped circle, the laminated card is both meaningful and durable.
Irish Blessing
May your thoughts be as glad as the shamrocks,
May your heart be as light as a song,
May each day bring you bright, happy hours,
That stay with you all the year long
Is she who can take the place of all others, but whose place no one else can take.