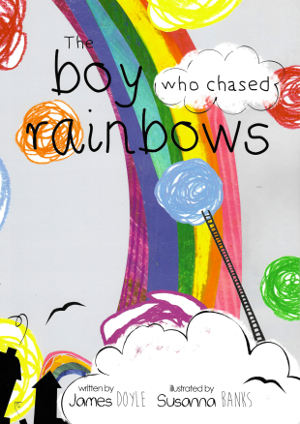 We all know that in Irish folklore, the magical leprechauns keep their pot of gold at the end of a rainbow, but what if one boy knew how to get? what if he where to find it? and better still...what if he got the gold to help everyone in his Irish village? If you'd like to discover more about this brilliant boy then you need to get a copy of 'The Boy who chased Rainbows' by James Doyle and Susannah Banks.
About the Author
James Doyle is a Belfast, Ireland school teacher and award winning children's author. He has written eleven books to date and has been translated into more than twenty languages. He has published alongside some of the biggest names in the publishing industry, including Michael Morpurgo, Neil Gaiman and even JK Rowling's editor on all of the Harry Potters. In 2013, he became only the second person from Ireland to win the International Reading Association's award in the United States - James' success was the first since Marita Conlon-McKenna's seminal famine tale - 'Under the Hawthorn Tree'. Here at Emerald Heritage we are delighted to have exclusive rights to James' latest offering 'The Boy who Chased Rainbows'.
About the Illustrator
Susanna Banks is a Printmaker and Illustrator from beautiful County Down, Northern Ireland where she lives with husband Chris, gorgeous daughter Polly and new baby Thomas, (not forgetting the dog and cat)! If she can see Scrabo Tower, she knows she's home. Susanna graduated from Ulster University in 2012 with a first class BA(hons) Degree in Fine Art. She was awarded the Laura Irvine Memorial Prize for Painting and Experimentation in Colour, and was Ulster University's Artist in Residence 2012/13. Her work has been exhibited widely including her first solo show in the Waterfront Hall, Belfast and in Ards Arts Centre, Newtownards. Susanna makes prints and illustrations using a mix of monotype, illustration, cut paper pictures, typography and colour. She takes her love of colour and composition and all things childlike and translates it into something that should hopefully make you smile. Find her online at www.susannabanksart.co.uk or on Instagram @susannabanksart.